The future is now and mobile marketing is the next big thing. Mobile is unlocking possibilities for brands and marketers. SMS, a huge component of mobile marketing, still proves to be an effective way to advertise to customers.
As a brand manager or marketer, you may be asking why you should consider SMS as part of your campaign. For one, SMS or text is still the most direct, most personal way you can communicate with your customers. You can reach out to them, regardless of the model of their phone. You can also ensure message delivery to your customers even if they don't have internet or mobile data.
SMS or text may not be the same as it was before but there are ways to harness the power of mobile and make it relevant to you and your customers. Here are some ways: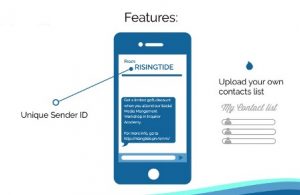 SMS blasts or broadcasts
With SMS, you can alert people with general announcements and also reach a large number of people instantly with important information. You can also attract customers to your store with product launches or a special promo.
With SMS broadcasts, you can use a unique sender ID or what is called "branded" messages to make your SMS look legit. You also have the option to send it to your own list of recipients but there are variations.
Some brands would decide that they want their messages read by people of a certain demographic. For example, if you want to blast a message about your product, a feminine napkin, of course you want the recipients to be female and not male. Another execution would be for the message to be sent to people in a certain location. If you own a restaurant in Makati, of course you want that those who get your message are potential customers. Most likely they are residing in Makati and not somewhere in Bulacan. With SMS blasts, you can also make that possible. You can dictate the place where your message will be blasted.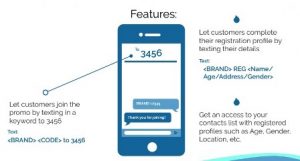 SMS Promos
Another SMS execution that can truly benefit brands is SMS promos. You can reach more customers via SMS and let them know your special offers and promotional discounts. You can also use it to invite people to join your giveaways or contests and profile your customers.
So how does this work? Imagine the old way of joining promos. You get to keep the packet of the product and send that in with your details via snail mail, right? Utilizing SMS, brands can simply ask their promo joiners to text in their details via SMS! Other brands also post codes on their products which customers can also text in as proof of purchase.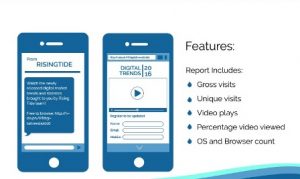 SMS Videos
Video is a big thing right now and with SMS, did you know that you can also send videos? You can build brand awareness by sending video links via SMS. When your recipients click on that link, they get redirected to a zero-rated website where they can watch the video for free! They can stream videos as short as one minute or as long as three minutes!
If you're a brand, you can also request for reports such as gross visits, unique visits of the website where your video is hosted. You can also know how many times the video was played and what kind of mobile phone they used while viewing it. Companies usually do this when they have a new commercial. Aside from airing in TV and social media, brands can also take advantage of SMS as a platform where customers can view their video.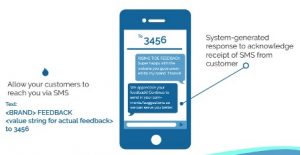 SMS Feedback
Let your customers reach you anytime, anywhere via SMS. Use it to instantly gather feedback or ratings on your products and services. Basically, it allows customers to reach you via SMS. And they don't even have to remember a long number. They can text the feedback to a four-digit code.
Of course, we want our customers to feel that their messages are acknowledged. Part of this feedback service is to have a system-generated response to acknowledge receipt of SMS. You can even take it one step further and have a two-way feedback system wherein you can reply to their feedback!
After receiving the responses, of course it comes with a dashboard where you can see the complete reports.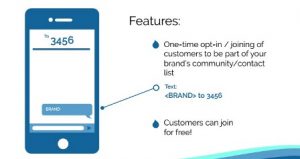 SMS Community Building
Build your own contacts list using SMS! You can this feature to create your own contacts list if you still don't have one. It works like this: just ask your customers to key in your brand and send it to an access code. They will be then asked to register with their details and from there, you can collate their information. You now have their important details and you can send them blasts like important promo announcements or discount codes.
With this community building feature of SMS, you can develop a contacts list who are interested with your services and products. You can also use it to send SMS to your contacts list as needed.
Are you now amazed with the different things SMS can do? Do you also know that with Rising Tide, we can help you get started on your first SMS campaign? Just drop us a line at contact@13.229.113.77